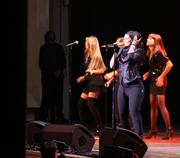 16 Photos: Click
Here

Nelly Furtado Sparkles at Ravinia and Debuts new song from the Movie SCORE: A Hockey Musicial

Nelly Furtado hit the road to support her fourth album Mi Plan, which is her first completely Spanish language release. Nelly already played Brazil, Chile, and Venezuela this spring and last night it was Ravinia's turn to be dazzled by this Grammy nominated pop star.

This isn't the first time I've seen Nelly Furtado. I saw her when she opened for Moby on the Area One tour back in the day when she first hit the major touring circuit. I can tell you one thing; this woman has come such a long way! She has sold over 25 million albums worldwide, snagged a Grammy Award for "I'm Like a Bird" along with 4 other Grammy nods and She's performed with the biggest names in the industry such as Missy Elliot, Timbaland, and now Alejandro Fernandez, and Alex Cuba, who sings and wrote half the Mi Plan album. You may not have heard of the latter two performers if you reside in English speaking world, but they definitely have their fans in Latin and jazz communities in the rest of the world.

Nelly spent the beginning part of her set reaching back to play songs from her 2000 debut for Whoa, Nelly! The highlights of the night included the piano rendition of "Try." There really is nothing like striping a song down to its roots and singing nearly accapella. Then there was the rock mix of "Turn of the Lights" that had the crowd up on their feet and dancing in the aisles.

This was a stellar performance from the pop star and even she knew it. At one point after hitting a high and strong note, she nodded her head and smiled, she knew she nailed it as did the rest of the audience. Her Spanish songs went over very well live too. They were all up tempo and very inviting for fans to dance to. By the second half of the show the energy from the crowd was insane.

She debuted the RUSH cover "Time Stands Still" that is the theme song to SCORE: A Hockey Musical. I could hear and tell that it was a RUSH cover, but this really wasn't Nelly's forte. It stood out a bit in the set.

As for Nelly's appearance I can say nothing more than she's stunning! Her sparkly spandex jumpsuit was incredibly eye catching. The pictures don't do the outfit or Nelly justice!

Nelly took the stage as if it were own, and conquered the audience with her smooth dance moves as well as serenading us with her truly one-of-a-kind Nelly Vocals.